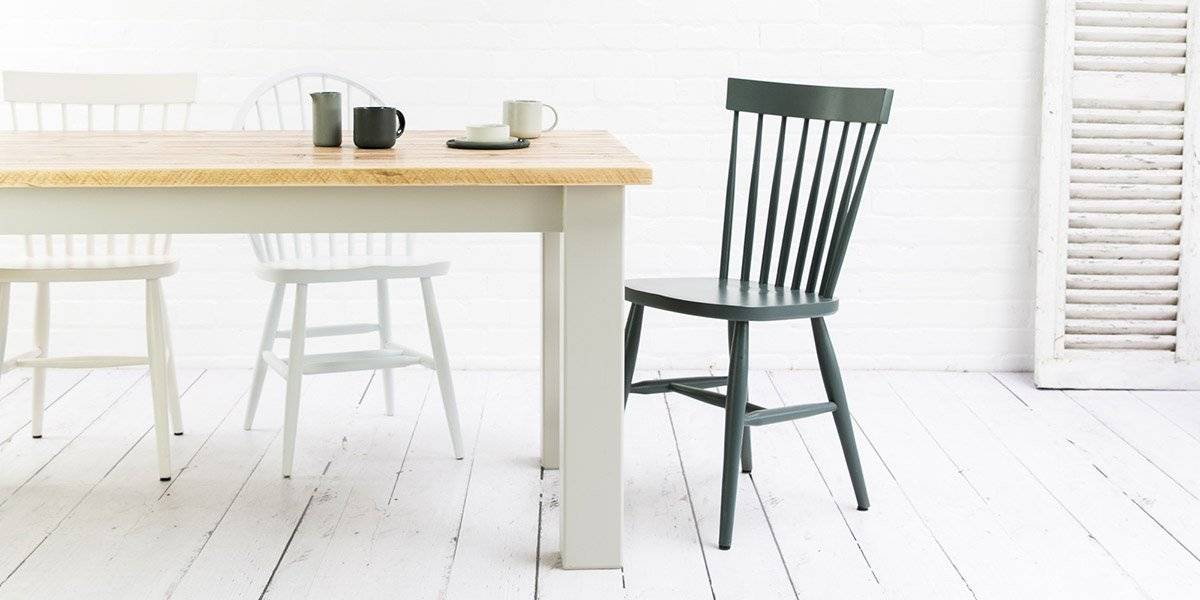 Find the perfect farmhouse kitchen chair to go with your table.
Sorry, there are no products matching your search
Partners with Farrow & Ball
Teaming up with the most sophisticated color experts on the planet, Farrow and Ball's tough and durable Modern Eggshell paint is ideal for our tables, chairs and benches.
Farrow and Ball creates deeper, richer colors in an eco-friendly water base. Virtually odorless and with very low levels of VOCs, their gentle child-safe formulas were a no-brainer for us as we searched for a paint to adorn our farmhouse furniture.
TABLES TO GO WITH YOUR CHAIRS
Any size or color - traditional or modern.
CHOOSING THE RIGHT KITCHEN CHAIRS
Selecting the right kitchen chairs can be really tricky. This is why we have assembled a collection of kitchen chairs that span traditional, modern and contemporary styles, allowing you to find just the right mix of seating to suite the design scheme in your home.
The Farmhouse Kitchen Chair, along with the Arch Back Windsor Chair are traditional side chair favorites, while the Spindle Back Chairs are becoming more and more popular as they hold a modern look while at the same time feeling traditional.
The Farmhouse Carver Chair is the classic head of the table armchair and is close in style to the Farmhouse side chair. Another great traditional option for the table end is our new Spindle Back Armchair.
If it's a mixture of color you're looking for then our Farmhouse, Spindle back, and Arch Back Windsor chairs can all come in any color you want. This gives your kitchen chairs the ability to tie into any color scheme you're working on.
And we'll send you subscriber-only promotions and our top tips for choosing a Farmhouse Table that's right for you.