Rich, bold and impactful. colors for your farmhouse furniture








Want to see these colors in person?
We make every effort to match our screen colors to Farrow & Balls paint colors, but you may find minor differences in tone depending on your screen settings.
Color tones can also vary depending on the paint surface and whether they are viewed under natural or artificial light.
If you need 100% paint color accuracy, we suggest ordering a FREE Farrow & Ball color card.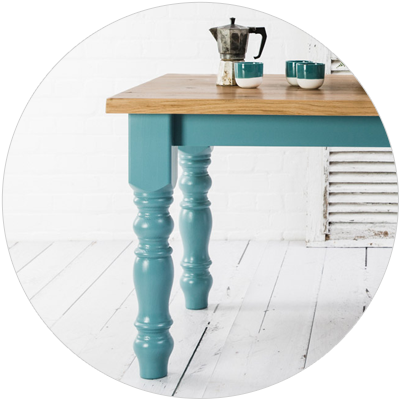 Why Farrow & Ball Paints?
Farrow and Ball creates deeper, richer colors in an eco-friendly water base. Virtually odorless and with very low levels of VOCs, their gentle child-safe formulas were a no-brainer for us as we searched for a paint to adorn our farmhouse furniture.
With their carefully curated palette of 132 shades, we're also sure you'll find the perfect color for us to paint your new table or benches!
Which furniture comes with color options?
All of our farmhouse tables and benches currently have the option for painted legs and frames.
How do I add my chosen color to my order?
First, please identify the name of the Farrow & Ball color shade that you want to use.
Next, on the product ordering page, we have provided our most popular color choices as options you can select.
If you don't see your color choice in these options, then select 'enter a custom color' which allows you to type in your color choice.  
Can I choose my color after I order?
Yes you can! We know that color choice can take some time to get right, so we give you a 'choose my color later' option on the product pages as part of the color option choices. If you select this option, we'll be in touch with you to get your final color choice, right before we get to the painting stage (we'll usually contact you 1-2 weeks after your order).
Can I update or change my color choice? 
It depends! The good news is that painting is the last stage in production, so if you let us know of a color change within 1-2 weeks of placing your order, we can generally accommodate any last minute color change requests.
If we've already applied your color choice to your table or benches, and we have not already shipped your items, then we can make a color change, but a repainting charge will be applied.  
If your order has already shipped, we won't be able to make any change to colors.
What if I don't like the color when it arrives?
Please take a little extra time to make sure the color you are ordering is the right color for your space and surrounding color scheme. While we do accept returns due to a change of heart in color choice, there will be a $250 restocking fee applied and you will need to cover the cost of return shipping to our workshop in Brooklyn, NY.
We try to make sure that the color swatches you see on our website are a close representation of the colors in real life, but we cannot guarantee 100% accuracy. Depending on your screen settings, colors may appear slightly different in person. Colors can also appear different when viewed under different lighting conditions such as natural daylight, or artificial lighting sources in the home.
To be more certain of eventual color appearance, we highly recommend ordering a Farrow & Ball color card so you can see the colors in person before deciding on your final color.